On Sunday at PAX east, in the enormous gaming area, I brought out a bin full of terrain, minis, dice, and rules to run a game of Savage Showdown. The Star Wars scenario was pretty straightforward- a three-way fight between Empire, Rebels, and Bounty Hunters set on an isolated frontier town nestled in a river valley on an arid planet. Here is the OOC setting to the game: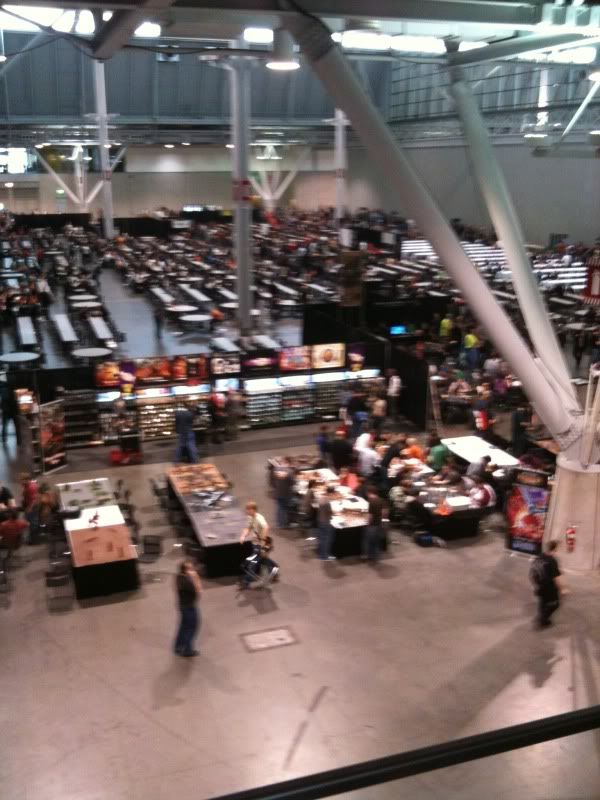 and here is the initial setup: Imperials at the mining camp, rebels and bounty hunters on the other side of the river separated by a hill: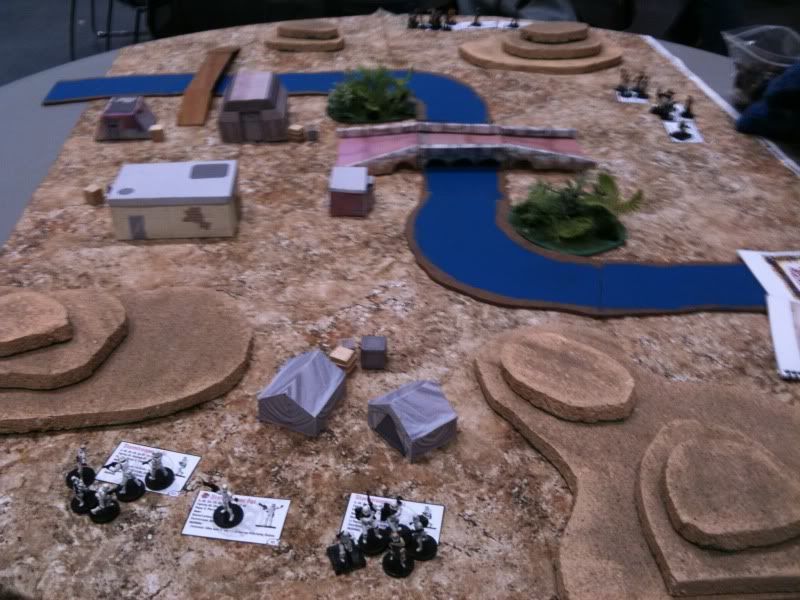 The players were new to the game but greatly enjoyed it. It was slower than I expected at first, but once they got the hang of the system things accelerated to the Fast Furious Fun that we expect from Savage Showdown. While they were new to the game, they were quick to see the value of seeking cover. As the game started, the swift rebels ducked behind the main bridge, chased by long-rage fire from the bounty hunters, who had occupied the hill as soon as they could. The imperials split thier force, sending one fire team through the mining camp towards the center of town while the other fire team climbed the ridge to catch the rebels in a cross-fire:
The rebels commandos dug into the stand of trees at the bend of the river, exchanging fire with the stormtroopers from both the ridge and mining camp. The stormtrooper's carbines and light repeater completely outranged the commando's heavy blaster pistols and began cutting them apart. Rebel accuracy was no match for Imperial firepower. The desperate rebels threw some of their limited gernades, but the range was too far. Leaving one rebel fire team pinned down (mostly shaken), the commando strike leader led the other fire team in a valiant charge over the bridge. Meanwhile, the bounty scum started a long run for the center of town via the other bridge, leaving Dengar at the top of the hill as a sniper, to deadly effect. Despite casualties, Rebel elan held as they succeded in all their morale rolls.