My Deadlands Toon posted for NPC purposes...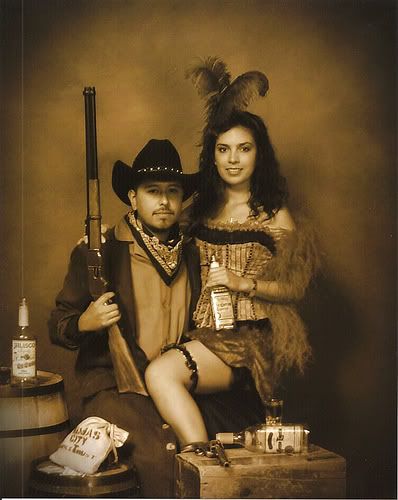 Mark Delaney
Texas Ranger
Hgt 5'9
Weight 182
Hair Brown
Eyes Brown
Cognition 2d12
Search 3
Trackin 5
Knowledge 1d8
Language English 2
Area Knowledge Texas 2
Language Chinese 1
Language Spanish 2
Language Commanche 2
Mein 2d6
Overawe 3
Smarts 1d12
Bluff 1
Survival 4
Spirit 3d4
Guts 3
Deftness 4d12
Shootin Pistol 4
Shootin Rifle 4
Speed Load 2
Nimbleness 4d12
Climbin 2
Fightin Brawlin 2
Fightin Knife 3
Dodge 4
Horse Ridin 3
Sneak 3
Swimmin 2
Strength 2d10
Quickness 3d12
Quick Draw 2
Vigor 1d10
Grit 2 Wind 14
Ranger Mark Delaney grew up in northern Texas during the early portion of the Civil War. His family made a decent living tending their horse ranch and trading with the vaqueros. Commanchero raiders attacked the ranch stealing their horses, and killing anyone they could find. The fourteen year old Delaney put up a brave fight and killed one of the Commancheros before he was driven from hiding and forced to flee into the hills with nothing save a Springfield .58 and a bowie knife.
In that time his survival skills were put to the test. He tracked game and learned how to survive. In those years he rarely entered towns and found numerous watering holes in the desert.
Two years later he volunteered to join a posse to track down the raiders. Many scoffed at his age, but soon his worth became evident. A good tracker and survival expert who showed the posse all the secret watering holes the bandits used, and all their hiding places. In the middle of the night the posse attacked and killed the Commanchero as they camped amongst a small band of Commanche. Young Delaney refused a reward for his services and took spoils of war from the dead on the ground. He then summarily hung the captured Three Feather, whom he recognized from the raid on his own ranch.
After this the young man was sought locally for his skills and many Commanche raiders who were once the kings of the desert, found a white adversary who would hunt them without mercy. During the next two years Delaney would hunt and kill Commanche, Apache, Bandits, and Mexican Outlaws independently until he was recruited into the Rangers.
He's a little young by many standards, however far from green. He can outshoot and outsmart most of his adult counterparts and has three high profile bounties to his name.
Three Feather: A deadly Commanche raider who terrorized Texas for the better part of two years. He led a posse to the gang, aided in the attack, and summarily hung the outlaw Indian.
El Jefe: Mexican Horse Thief he caught near the border with a posse. The gunfight was a drawn out affair, but eventually Delaney's posse outlasted the bandits, and brought them all back for trial.
Morgan Richmond: A bank robber who killed a bank teller and two deputies in Austin Texas. Delaney tracked the scalawag to Oklahoma, confronted him in a saloon, and gunned him down.
Soon after the Richmond gunfight a picture of the young Ranger began circulating through the media outlets. It first appeared in Oklahoma, then throughout the country. Pinkertons and Northerners despise him almost as much as the Commanche & Apache, but that won't stop him from doing his duty as a Ranger.
Before the picture began circulating he is identified by some peculiar things. For one he's the only Texas Ranger in existence who wears moccasins. Considering his penchant for hunting and tracking the Apache and Commanche it seems more than a little odd. The second is his ranger badge has been fashioned into his gunbelt buckle. While he carries a pair of pistols, he rarely draws and uses them at the same time. Some reports claim he's two fisted, and he can fight as such, but generally he carries a pair in case he needs to keep bullets in the air.
Since his recent relocation to the state of Iowa, he is working as a Deputy Sheriff in the small town of Cornwall. His thick Texas accent and backwater beliefs seem to clash with the northern ideals, but he's managed to ingratiate himself into a posse, and into the social structure of the town.
Over the course of his deputization he's had many adventures. He played a part in closing down operations of a greedy barony in Cattle Creek Nebraska, killed giant worms that terrorized Cornwall, amongst other deeds.
He laments the loss of two friends in the course of his adventures. Bull was a good friend and got killed in a barefisted duel outside the Cornwall Saloon. His other friend was Hawk. While he had a vile reputation as a back shooter, he was a nice guy. Bull is buried in Cornwall, while Hawk was laid to rest on Ike Clanton's farm, two days ride from Cornwall.
Of his cohorts, it seems the one he trusts most is a Chinese Gunfighter named Miko, whom he refers to as China Doll. While she's not with him on every adventure, he seems to delegate a lot of authority to her in times of crisis.
His Bullard Express Rifle, and his dual pistols are optimized and custimized for optimum precision. He is generally more apt to use his rifle and carries it with him most anywhere he goes.
Edges
Veteran of the Wild West
Two Fisted
Texas Ranger
The Voice
The Stare
* Can focus and gains +4 to search when trying to see things long range
Hinderances
Hankerin Tobacco
Obligation Law
Enemy Outlaws
Oath Law
*Attacked by a red snake in Texas and now his arm looks like red snakeskin.
Equipment
Horse {Spirit}
Tack & Saddle
Paired 1875 Colt Army Outlaw Revolvers {Hair Trigger + Qaulity} +2
91 Rounds .45 long Colt
Bedroll
Canteen
Hatchet
Bowie Knife
8 days Rations
2 pouches plug tobacco
58 Springfield Rifle
19 rounds .58 ball
Duster
Bullard Express 50 {Qaulity, Lengthened Barrel, Sights} +1/+3 Long Range
150 Rrounds 50 Cal
$870.00 {The majority of which is in a bank in Des Moines}